We are thrilled to announce that the STREAM board is the latest project to join the Myriad-RF family. A feature-packed FPGA development platform built around an Altera Cyclone IV device, this includes RFDIO and FMC connectors, enabling use with the Myriad-RF 1 transceiver, future modules and other FMC cards.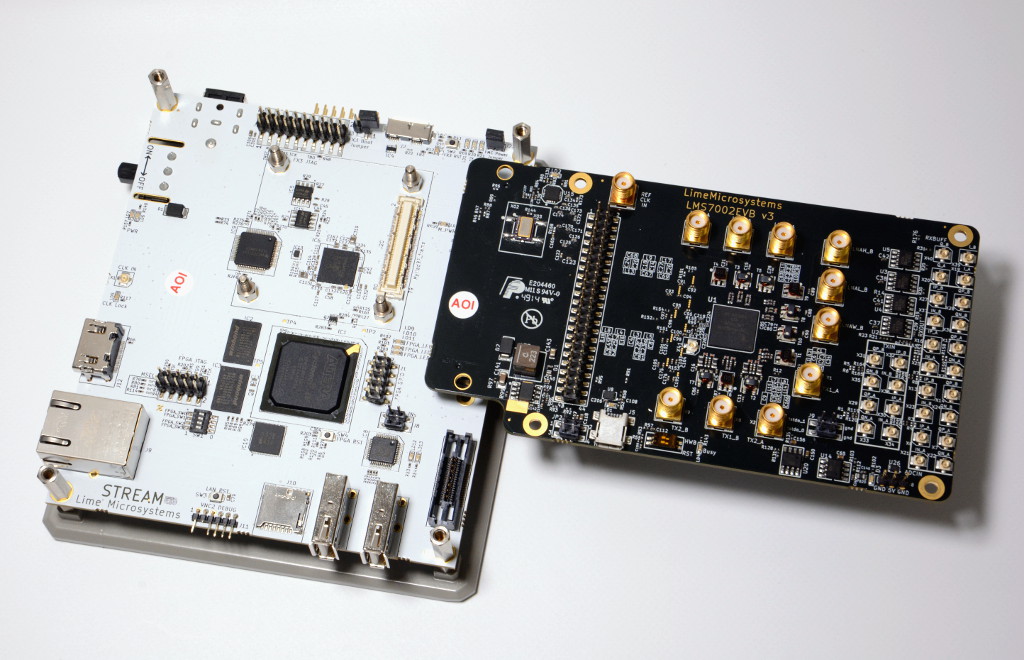 Stream with the LMS7002M EVB attached to the FPGA Mezzanine Connector (FMC)
A version of LMS Suite is provided for use with the LMS7002M UNITE board, which enables control of the transceiver and spectrum analysis via an FFT viewer, along with example waveforms which can be loaded into the FPGA.
Olof Kindgren has developed an OpenRISC SoC for the STREAM that is capable of running Linux, complete with a peripheral controller for interfacing RFDIO cards such as the Myriad-RF 1. This allows for a mixed development model whereby programming and control can be via the RISC processor, with baseband and digital processing taking place directly in the FPGA fabric.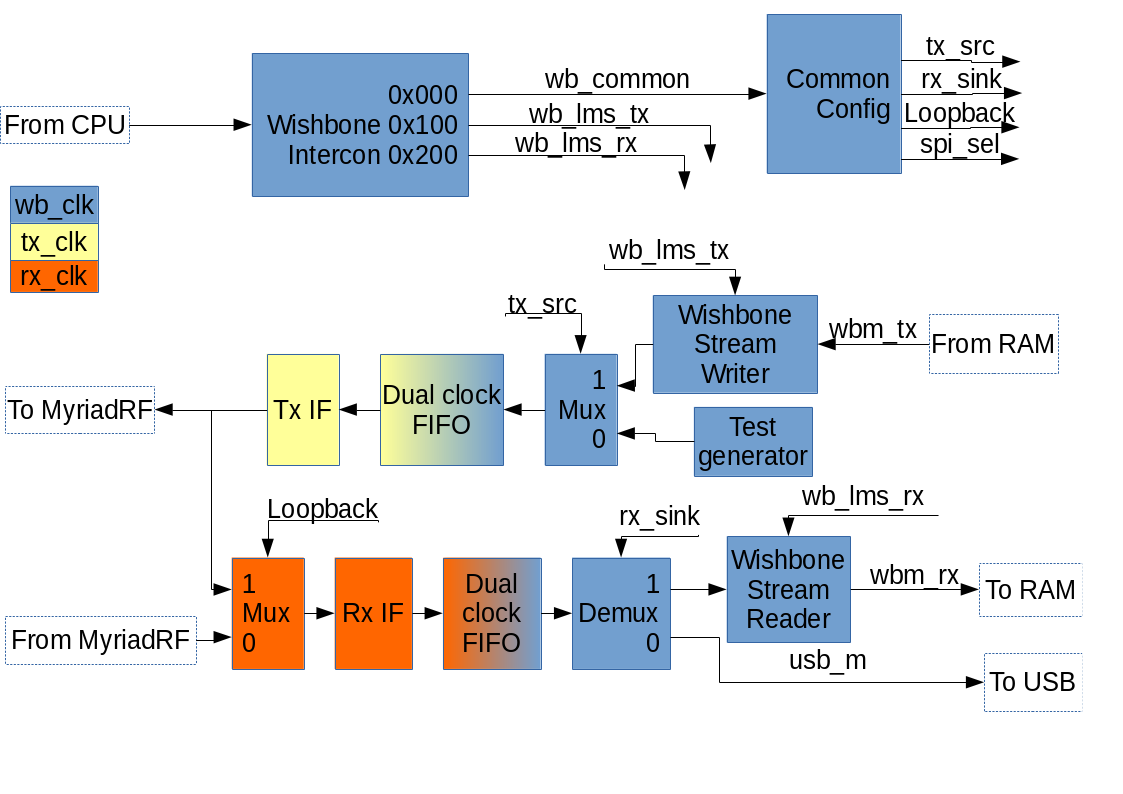 STREAM OpenRISC SoC and Myriad-RF 1 dataflow.
Key specifications and features include:
Cyclone IV EP4CE40F23C7N device in 484-pin FBGA
2x64MB (16bit) SDRAM
Micro SD storage
Micrel KSZ9021GN GbE controller
Dual USB 2.0 host
Cypress FX3 USB 3.0
DVI transmitter with HDMI jack
FPGA Mezzanine Card (FMC) LPC connector
RFDIO (FX80P) high-speed connector
GPIO header
FPGA and FX3 JTAG
Dr Ebrahim Bushehri, Myriad-RF founder and CEO of Lime Microsystems commented:
"This is another step forwards in the development of both Myriad-RF and OpenRISC, and the implementation by Olof is a strong indicator of the innovation that is to come from open source communities working together. I foresee significant progress towards the Democratization of Wireless Innovation as the Open Source community gains access to this and similar platforms in the future."
Stefan Wallentowitz of the OpenRISC project added:
"The OpenRISC community recently worked on a better processor core implementation and getting our software and toolchains straight, like the Linux port. We are really excited to see that this work is useful to a wider community. Myriad-RF is a very interesting project and we are really looking forward to deepen the collaboration of both communities."
The board KiCad design and Gerbers, aluminium enclosure design, OpenRISC SoC and software sources have all been published to GitHub.
The STREAM board will be available for purchase via distribution.